About Blackthorn Contract Furniture
Blackthorn Contract Furniture was formed in 2007 by, Steven McKee and Stephen Frater bringing together a wealth of experience in the fitted furniture,kitchen and specialist joinery sectors.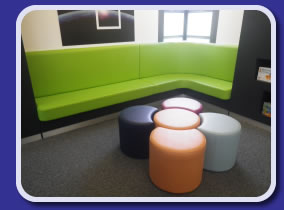 Our aim is to offer a comprehensive service from concept to completion with the emphasis on smaller and more specialist projects that the larger manufacturers are less interested in and the smaller cannot cope with.We have worked all over Northern Ireland and in Scotland so distance is no object.
Essentially Blackthorn will do anything in specialist and contract joinery,using whatever materials are required and fulfilling the specifier / clients needs absolutely. The largest part of our workload is in the education and health services sectors. Sports clubs, community buildings, churches and toilet / changing areas also feature largely. Within these we can provide everything from the reception counter to the vanity units; the staff room kitchen to the trophy cabinet; the coffee bar to the toilet cubicles; the storage shelving to the IPS panelling. Everything is manufactured to order; any product or material can be sourced and we prefer to install all that we produce so that we can ensure a quality finished product.
Our experience within the furniture industry is that the larger scale manufacturers are mainly interested in contracts that have large quantities of units,cubicles etc that can keep production lines busy. They actually employ very few skilled workers or joiners and struggle with diverse or complicated projects. They will, however, usually have a sales/design team that can work through a project from concept to manufacture. Conversely smaller manufacturers, very often domestic kitchen companies that have diversified, look to take on the smaller projects but have little or no capacity for design or bringing ideas to life.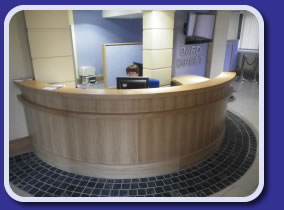 Blackthorn differs in that the workforce are predominantly highly skilled joiners that can take on any type of project from a bespoke counter to a school science laboratory. Blackthorn has over 50 years experience in the building trade.
Where required we can bring in a whole range of specialist sub contractors to provide a fully integrated package all completely under our control.Our structure allows us to be very competitive in all types and size of projects. To date these vary from £ 100 to over £ 60000 - one of our largest projects having been manufactured here and installed in the Scottish Borders.
Because of our structure the service you will receive will be very professional yet feel personal and that each project is valued, not just part of our annual turnover.